CabiBUS Sustainable mobility - Better than your own car!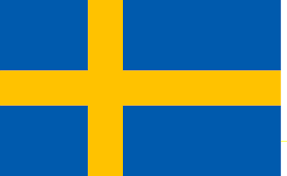 Swedish page here YouTube video https://youtu.be/r_IB5QP3ClU New website under construction cabibus.com Autonomous vehicles www.autolevel5.com
Background
Public transportation systems today have many limitations and problems that make it less attractive for the majority of travelers. Even in a country like Sweden, with well developed public transport systems, people choose their private car for more than 80% of the daily trips resulting in traffic congestions, pollution and accidents. The major issues are:
· The distance from the starting point to the nearest bus/tram stop and from the last stop to the end destination, in most cases by walking with the risk to be exposed for bad weather or even crime.
· Often it is necessary to change to another bus/tram, adding waiting time and weather exposure.
· Sharing a limited space with other passengers reduce the possibility to work or relax and entails exposure to airborne infections.
· Total travel time is typically much longer than by private car, in Sweden the average is 68% longer.
· Children can have problems with using public transport alone, also elderly and people with minor disabilities not qualified for special transportation service, making private car the chosen alternative.
With these obstacles the authorities in cities and regions have real problems to reach their goals for reduced traffic.
Now the development of autonomous electric vehicles can revolutionize the public transport systems through substantially lower operating cost, increased passenger safety and a higher customer satisfaction.
But a key factor is that every passenger can travel safe and convenient in a private cabin. With no driver on board, many will avoid ride-sharing if anyone can come and sit next to you, especially at night.
The new technology, existing and in development, can bring a radical increase in public transport use when the CabiBUS system is implemented.
The key to attract a majority of private car travelers to choose public transport is to offer privacy and door-to-door service while still being more economic than taking the own car. The solution to this is a new minibus for on-demand ride-sharing with a private cabin for each passenger, CabiBUS. Electric drive system for environment and economy. With 6-8 cabins, available through 3-4 doors on each side of the minibus, it is small enough to reach also small streets and roads and to be self-driving when that technology is ready.
Each cabin have a big touch screen where the passenger can see the road in font of the vehicle to prevent motion sickness, use Internet, select temperature and light and get trip information. Individual filtered ventilation eliminates the risk for infections and airbags protects in case of accidents.
IT systems for booking and route optimization allows travelers to order the trip by telephone, Internet or an app, they can also subscribe to regular trips to and from work. Such systems are available and also developed by new companies like Uber, Didi Chuxing and Lyft. A new study led by Professor Daniela Rus at MIT's Computer Science and Artificial Intelligence Laboratory (CSAIL) found that 3,000 ride-sharing cars could transport 97 percent of New York's taxi customers—with just one third the current traffic. And if carpooling was done with 10-passenger vehicles, just 2,000 vans could replace the 14,000 taxicabs in New York City.
CabiBUS will be a highly connected vehicle that use mobile Internet connection for a number of features:
· Passenger login and billing.
· Passenger entertainment and work on the large Internet connected touchscreen in front of each passenger.
· Vehicle route instructions from the control central.
· Vehicle tracking.
· Vehicle and passengers security monitoring.
· Parents can use videoconference to follow kids travelling to school, activities and friends in a safe way, also communicate with them from another cabin.
· Vehicles can send and receive traffic information like speed, congestions and accidents that will make the route planning system more effective.
· Vehicle control systems can be remote updated, like in Tesla
Electric drive is the key to sustainable transport, reducing the traffic pollution in cities. It will also ensure lower transportation and maintenance costs.
Autonomous driving technology will add a substantial cost reduction and make CabiBUS the most cost effective system for public transport in and around cities.
CabiBUS - The game changer in public transportation
CabiBUS with one passenger compartment (cabin) for each passenger is a truly innovative vehicle. It is the prerequisite for a public transportation solution that provides unique advantages against existing systems. CabiBUS can attract a large number of travelers to abandon private car, which means that an investment in a region, for example $2 billion could be enough to buy 20 000 vehicles with a total carrying capacity of up to 140 000 passengers. If all of these previously were single private motorists it means that traffic can be reduced with 120,000 cars and a substantial reduction in pollution and traffic congestions. The solution is interesting for most urban regions of the world.
Mission
CabiBUS enables cities to move toward a model of on-demand mobility in which citizens can take advantage of clean transportation options that meet their immediate needs. According to Navigant Research, the global smart urban mobility infrastructure and services market is expected to grow from $5.1 billion in 2015 to $25.1 billion in 2024. (Report: Urban Mobility in Smart Cities, 2Q, 2015)
The vehicle
CabiBUS is basically a compact electric minibus with 3-4 doors on each side for a total of 6-8 passengers. Each passenger has a separate compartment (cabin) with space for hand luggage, independent climate control and other facilities to make the trip efficient and comfortable. It also has a rear cabin that can be booked for a wheelchair passenger, baby stroller, foldable bike or luggage. This will greatly improve the mobility possibilities for wheelchair users. Download 3D pdf here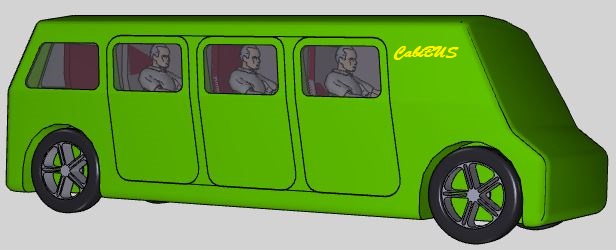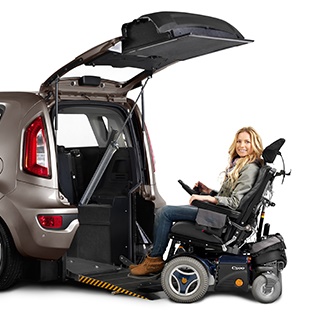 Communication
In front of each passenger is a large display for information, Internet, work and entertainment. The display can also show video from a camera in front of the vehicle if the passenger is more comfortable with that. When the CabiBUS stops for a passenger to exit, the display shows video from a camera in the back so that approaching vehicles can be observed.
Safe
Airbags in each cabin will provide a much higher passenger safety in case of an accident than in buses and trams.
Self Driving
Autonomous CabiBUS will offer a substantial reduction in public transportation costs while also increase the safety. Until the self-driving systems are fully developed and certified, CabiBUS can be fitted with one driver cabin and used for starting up services. When self-driving system is available the driver cabin can be replaced with a passenger cabin. Since a control center will run the system, autonomous level 5 will not be required, level 4 with remote control can take over if the vehicle needs assistance. www.autolevel5.com
Online Booking and Payment
An IT system is used for travel booking and door-to-door journey planning. Pick up bookings are made by phone, mobile app or the Internet. The payment system is simple because no changes are made, the traveler can get to know the price in advance, even if the price is based on length of journey. Low risk of vandalism because each traveler's check in to his compartment with public transportation card, debit card or other type of identification.
Infrastructure
The infrastructure needed is charging stations (which is already on track to be built for electric cars). Tesla has demonstrated an automatic charging solution for their cars https://www.youtube.com/watch?v=ut3sELMOyTM . Wireless Internet and other telecom solutions are also required.
Uniqueness
· CabiBUS personal cabin will be the only way most passengers will accept to travel when driverless public transport is introduced, eliminating possible threats from other passengers and allowing them to work, read, make phone calls, sleep, use the Internet without being disturbed.
· CabiBUS is more convenient, safe, reliable and environmentally friendly than any other means of travel. It is also suitable for children and persons with disabilities.
· CabiBUS is a compact vehicle, as opposed to larger buses it can move on all navigable roads and streets across the region and offer real door2door transport.
· CabiBUS needs no special tracks, lanes or stops to be built, which provides a low initial investment and good scalability.
· CabiBUS can be produced in vastly larger volumes than buses and trams, which provides economies of scale and low cost per seat.
Benefits for society and travelers
CabiBUS provides significant benefits for:
· Transition to fossil free fleet offers substantial environmental benefits.
· Reduction of private cars provides less congestion and accidents.
· Eliminates the risk of infection in public transport results in fewer absences for illness and lower health care costs.
· Efficient and relaxed travel time means less stress and better work performance.
Most large urban areas in the world need drastic improvements in their public transport systems in order to reduce the overwhelming problems with pollution and traffic congestions. Authorities must address these problems and find new solutions. In Sweden 7 of 21 regions have set a goal to double the number of trips and market share for their public transport and another 6 regions mentions doubling in their plans.
Innovative companies like Tesla, Google and maybe Apple have sustainable transportation as a key area for developing new products and services.
Pilot Market
Göteborg is the second-largest city in Sweden with a population of 550 000 and has an active plan, together with the region Västra Götaland, to double the market share for public transport to 2025 making it a suitable place for a CabiBUS pilot project. Currently the region is investing $35 millions in sustainability development projects in four areas, one of them is public transport. CabiBUS is one of 10 private suggestions for future public transport selected for presentation on the regions website. With a successful pilot project as a reference and results from research and simulations to back it up it is time to start direct contacts with public transport authorities and automotive companies globally.
Market size
There is a huge global market for public transport solutions. According to Navigant Research, the global smart urban mobility infrastructure and services market is expected to grow from $5.1 billion in 2015 to $25.1 billion in 2024
But new solutions and technology must compete with the traditional ways of transportation. One example is in the city of Göteborg, Sweden, where the municipal assembly has decided to build a 5-mile, three-station subway for USD2.5 billions with start in 2018. The decision has met a massive local resistance on the grounds that it is a very expensive way to transport just a few 1000 passengers a day. The lack of a subway now is due to the soft ground on which Gothenburg is situated. Tunneling is very expensive in such conditions and the critics also claim that there is a large risk for damages to city and buildings during the 9 year construction time and after.
An interesting comparison is to make the same investment for a CabiBUS solution.
As an example, start with the 7 passenger Tesla Model S 90D with All-Wheel Drive and Range Upgrade to 270 miles (EPA) total cost $91 000. A CabiBUS version with three doors on each side, 6 cabins, will probably have the same, or lower, price if a city orders 27 500 of them for $2.5 billion. With an occupancy of 5 passengers during traffic peak hours they can transport 137 500 passengers simultaneously. If all of these previously were single private motorists it means that traffic is reduced with 110 000 cars.
Based on a medium occupancy of 3 passengers and trip time of 30 minutes they can deliver 2 million trips/day and exceed the doubling goal of public transport for the whole region with a wide margin.
Kenneth Palmestål
+46 706 906090